QUAELIS 12 INDOOR AIR QUALITY METER
The Quaelis 12 meter allows to monitor the level of CO2 present in the room where it is placed. It is adapted to the new sanitary protocol concerning certain establishments receiving the public. It allows to be alerted when it is necessary to ventilate. The Quaelis 12 CO2 meter thus brings a solution of prevention to the decree n° 2015-1000 of August 17, 2015 (Grenelle environment law 2) relating to the methods of monitoring of the indoor air quality.
Livraison offerte pour toute commande supérieur à 100€ TTC !
Dont €0.25 d'éco-participation
Dont €0.25 d'éco-participation
Garanties sécurité (à modifier dans le module "Réassurance")
Politique retours (à modifier dans le module "Réassurance")
Politique de livraison (à modifier dans le module "Réassurance")
Description
Product advantages
LARGE NUMBERS, FOR GOOD VISIBILITY FROM A DISTANCE
CONTINUOUS AND REAL TIME MEASUREMENT AND DISPLAY
VISUAL INDICATOR (COLOURED SMILEYS) AND SOUND
CUSTOMIZABLE ALARM
2 YEAR WARRANTY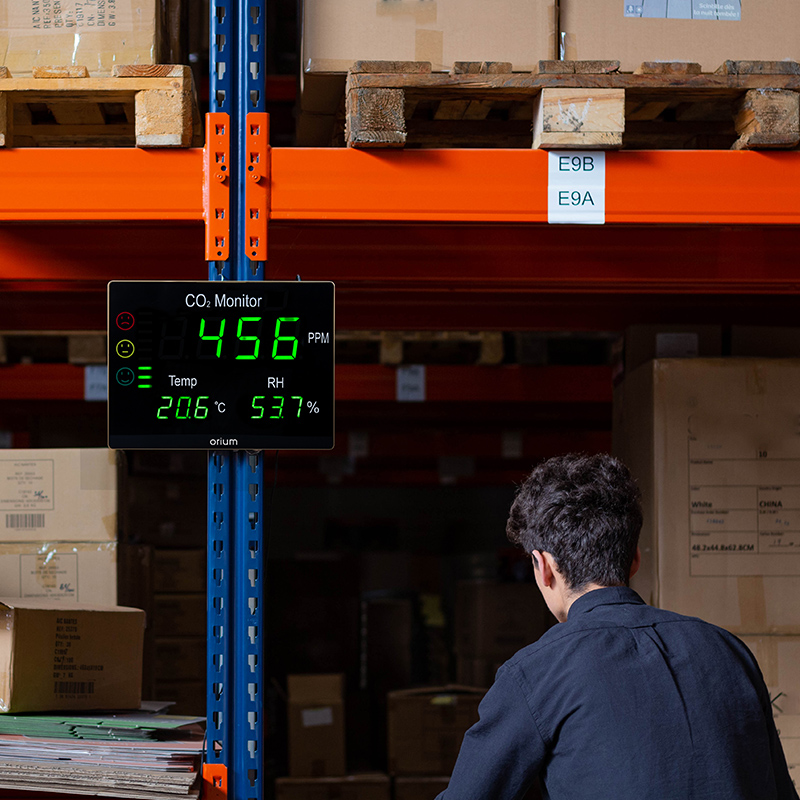 The Quaelis 12 CO2 meter allows a continuous measurement and display of CO2 in rooms.
Ideal for the office (warehouse, meeting room, open-space...) and ERP (nursery, school, refectory...), the Quaelis 12 meter monitors the level of CO2 in your room to ensure concentration and comfort, reduce absenteeism and avoid the propagation of viruses. Allows to identify when it is necessary to ventilate.
Once connected, it continuously displays the CO2 values of the room (indicated values: up to 9999 ppm). Technology: NDIR sensor.
CO2 (Carbon Dioxide): Odourless, colourless gas naturally present in the atmosphere, linked to human occupation and air renewal. It is an indicator of the level of confinement of the air. High levels of confinement can lead to fatigue, headaches, nausea....
For ease of reading and understanding, coloured icons (green, orange and red) indicate whether the room should simply be ventilated or cleared.
Green: 0 to 600 ppm.
Orange: from 601 to 1200 ppm.
Red: above 1200 ppm.
In addition, an audible alarm is emitted according to the defined alert rate. Alarm customizable according to the desired detection threshold, possibility to deactivate it.
Additional functions: display of temperature (in °C and °F) and humidity.
Temperature : from -10°C to 100°C
Humidity: 0 to 99.9%RH
Good readability of the display thanks to the large digits (height: 7.5 cm for CO2 and height: 3.7 cm for temperature and humidity) and the colour contrast (green on black).
To be fixed to the wall (screws supplied). Power supply: 230 V ~ 50 Hz (adapter supplied).
Data sheet
Data sheet
Pollutants and measurements

CO2
Hygrometry
Temperature

Material

ABS

Guarantee

2 years

Users

Companies
Local authorities, Public establisments

Place of use

Day care centres, schools, leisure facilities, medical and social facilities, nursing
Offices, companies,
Senior residence, Retirement homes
business/stores

Power supply

Power outlet

Dimensions

39.2 x 4.2 x 29.2 cm

Contents of the pack

1 adapter 230 V
1 manual user
indoor air quality meter
PRODUCT VIDEO
PrestaShop • ZOne - Supermarket Theme • Installation
Avis Client
Aucun avis pour le moment